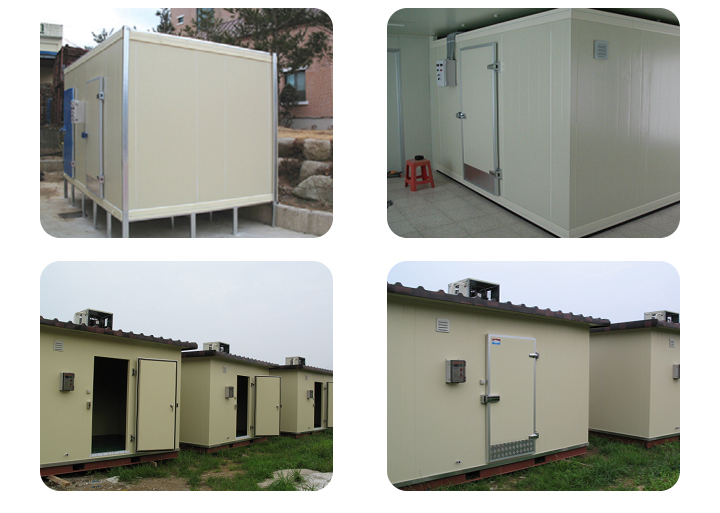 Optimization of the limited space

Beneficial use of space

Installed easily in a small space.

Easy to assemble

Facilitate easy to relocation and expansion

It is designed by cold top polyurethane panels which is superior to other products in insulation. Basically, the width of panel is 900mm, it can be customized to adjust the width between 150mm and 900mm.

The height of panel is based on 2000mm and 7000mm, but it can also be customized to adjust height up to 7000mm according to the operating conditions.
Thickness and temperature of panel



50T: Refrigeration and air conditioners (0 ¡É ~ 10 ¡É)
75T: Refrigeration and freezing (-5 ¡É ~ -10 ¡É)
100T: Freezing (-5 ¡É ~ -25 ¡É)
125T: Freezing (-5 ¡É ~ -50 ¡É)
150T: Electric floor heating panels (10 ¡É ~ 60 ¡É)

¡Ø Please select the thickness of the panel depending on products.






Features of Polyurethane Panel

¨ç Extremely low thermal conductivity
Polyurethane Panel¡¯s strongest point is low thermal conductivity only 010185kcal/mh ¡É.

¨è Outstanding insulation & Condensation-Proof
Effect on condensation prevention in polyurethane panel is 30 times more than the brick.

¨é Breakthrough cost-effectiveness
The polyurethane panels brings cost effectiveness compared to conventional insulation materials.

¨ê High strength & Ruggedness
The polyurethane panels is strong material used in construction for cold warehouse.

¨ë Reducing construction cost
It can save cost under construction because of easy assembly and installation
Indoors, outside built-up

Indoors, outside built-up

Indoors, outside built-up

Indoors, outside built-up

Prefabricated urethane panel

Agriculture, eoga refrigeration /
Fridge-house assembled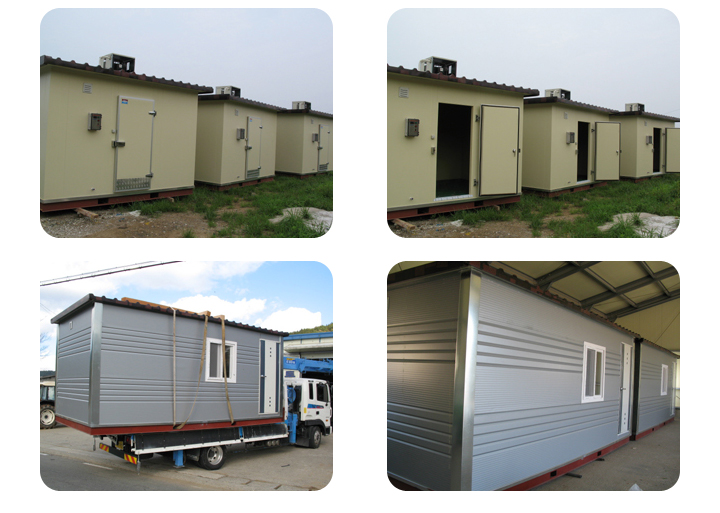 No need for rain shelter / easy to move

Low radiant heat because of good thermal insulation

Excellent storage performance

Easy to move / clean appearance.

Installable anywhere the electricity exists
Combination of Low Temperature warehouse & Dryer

No need for rain shelter / easy to move

Drying under low temperature storage condition

Large amount of drying with mass dryer

Four-sided uniform drying with three-dimensional air circulation system

Efficient working method
Low Temperature warehouse
- Functional storage depending on product
- High-quality cold storage
- Freshness device
- Remote control system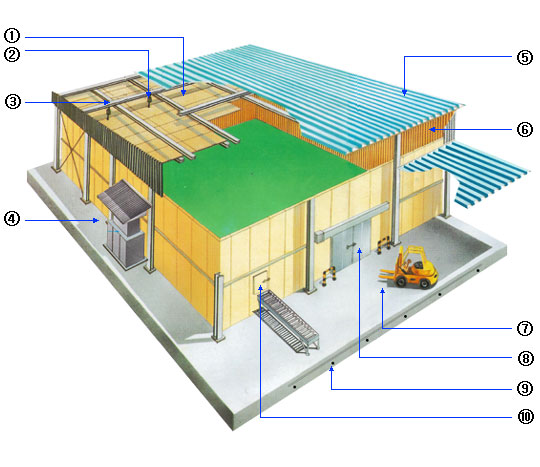 | | |
| --- | --- |
| ¨ç ceiling panel | ¨ì hwoming panel |
| ¨è turnbuckle | ¨í docks |
| ¨é Steel | ¨î Power dissipation sliding door |
| ¨ê packaged chillers | ¨ï pipes from freezing |
| ¨ë roof (color corrugated) | ¨ð overlapping trapdoor |
This equipment if perfect not only for its excellent store performance but also it contributes to stabilizing farm income as well.

By storing farm products in Low Temperature warehouse, it can be secure in safe storage.
1. Excellent insulation
Cold warehouse is economical equipment to minimize it¡¯s energy consumption. Prefab panel is used for blocking cold and hot air.

2. On-site assembly
Installation of cold warehouse is not interrupted by the place for establishment

3. Expansion & Relocation
This is prefabricated cold warehouse by assembling PREFAB-type panel so that it is available to expand or relocate the device.

4. Utilization of efficient space
Because of the excellent heat insulating of the polyurethane, the thickness of product is thinner compared to others.

5. Excellent appearance
The surface of panel is designed by color steel plate, precoated Steel Plate, and stainless steel so that it has elegant appearance.

6. Schedule compression
It can be reduced the term of works.
Cold storage - Thermally door

Cold storage - Thermally door